Coffee For Your Home
Showing all 14 results
Fresh Roasted Regular and Decaf Coffee for your home brewing enjoyment.
Choose from a variety of light, medium, and dark roasted coffees, skillfully roasted on-site.
Our coffee is packaged in 16oz vacuumed sealed poly bags with a one-way valve to seal in freshness.
Shipped to your home within 24 hours of roasting.
Special!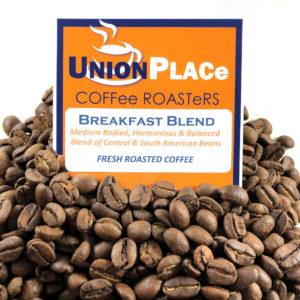 Breakfast Blend
• Roast: Medium • Body: Medium • Acidity: Medium • Flavor: Mild, harmonious blend with a delicate silky-smooth finish Our Breakfast Blend Coffee is crafted in-house using premium 100% Arabica coffee beans from Central and South America. Blended for medium body and a balanced smooth taste without bitterness. This blend appeals to a wide audience of coffee connoisseurs seeking a pleasant and uncomplicated cup. A blend of Colombian adds sweetness and aromatics, Guatemalan for nutty notes and the chocolate hints of Brazilian give this cup a beautiful smoothness that will leave you craving this uncomplicated cup every morning.
$

11.50
| 16 oz.
Select options